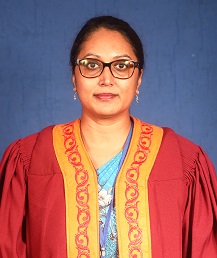 Name in Full:           Dr. Nishara Manique Mendis
Name with Initials: Dr. NM Mendis
Designation:            Senior Lecturer Gr. II
Email Address:       nisharamendis@kdu.ac.lk
Qualifications
Teaching Areas
Research Interests
Publications
Qualifications
PhD 2020
Doctor of Philosophy (PhD)
Maastricht University, The Netherlands
LL.M. 2005
Degree of Master of Laws
Yale Law School, United States
LL.B. 2003
Bachelor of Laws – First Class Honours
University of Colombo, Sri Lanka
Attorney-at-Law 2006
CTHE 2007 – Certificate in Teaching in Higher Education
Staff Development Center, University of Colombo recognized by the Staff and Educational Development Association (SEDA), UK
Advanced Seminar in International Humanitarian Law for University Lecturers, ICRC, Geneva, 2015.
South Asia Teaching Session (SATS) on International Humanitarian Law, ICRC, Kathmandu, 2013.
Intensive Course on Bioethics 2003 – conducted by the Forum for Research and Development (Sri Lanka) in collaboration with the Center for Study of Human Rights, University of Colombo, Kings College, University of London and the WHO, Geneva.
Teaching Areas
Research Interests
Publications